Global Sourcing

Several Global sourcing solutions are available to drive successful BCC activity. Each structure has pros and cons, there is no best choice, it depends on each clients.
Phinecon consulting adapts to its client to propose the best customized structures for a successful LCC activity.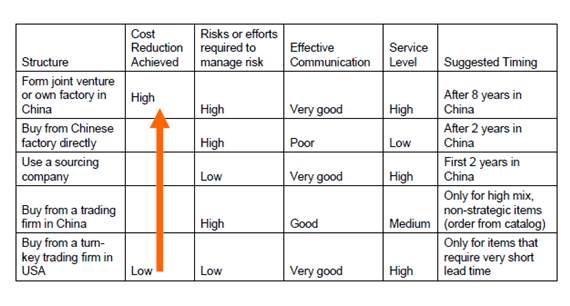 Phinecon consulting provides several configurations depending on its clients requirement, from a focus in specific BCC country (like China or India or Mexico) to BCC region (Asia) to full global sourcing (Asia, Mexico, East Europe, North Africa, and South America) taking advantage of our global network.
Our Global network and sourcing capability in China, India, south east Asia, East Europe, North Africa, Mexico and South America give to our clients a unique full Low Cost solution that only a global international company could get after high investment on cash, resource and time.
Phinecon provides a full LCC sourcing organization ready to operate, at your service, able to provide the Lowest Delivery Cost based on Total Cost of Ownership comparison
Phinecon has a rich experience on global sourcing as consulting company but also through its consultants and leaders who have worked in global sourcing environment or led worldwide global sourcing organization for major international companies. Our sourcing process is based on clear methodology which has proven its performance.

We also help our customer to define the Lowest Delivery Cost based on Total Cost of Ownership concept. We provide all cost and identify the risk when existing, to make sure our client select the best supplier and sourcing location for its product, taking into account all hidden cost.
Phinecon's target is not to source as much as we can but to make our client reduce their cost and increase their profit.