Consulting in Supply Chain
With the increasing demand for outsourcing, Purchasing is one of the key function driving today's businesses.
Achieving a best cost position is critical to improve profitability but also to develop sales and save cash to invest on new product development and marketing.
Reduced in the past to basic procurement task, the purchasing function now includes the management of the supplier base though supplier/commodity strategy aligned with corporate strategy, management of supplier quality through engineering and quality development, and optimization of the supply chain.
The rampant consolidation of weaker competitors in every industry combined with the intense competitive pressure from new players in emerging markets such as Asia make the optimization of the whole supply chain a key priority for companies which want to growth as leader.
Organizations that take a broad strategic approach to improve their supply chain, instead of making improvements in bits and pieces, are rare but they emerge as the winners, with lean and effective supply chains. They've learned how to make the most of growth opportunities, achieving high fill rates for high margin products with appropriate levels of inventory and optimized cost.
Phinecon consulting has worked on supply chain optimization projects across many industries including automotive, aerospace, train and telecommunications equipment, consumer products, financial services, retail, healthcare and a range of industrial goods and services companies, as well as with logistics companies of all types.
Each industry or client has different level of maturity and requirement for its supply chain. In order to propose the most appropriates service and customized solution to our clients, Phinecon proposes 3 level of consulting service.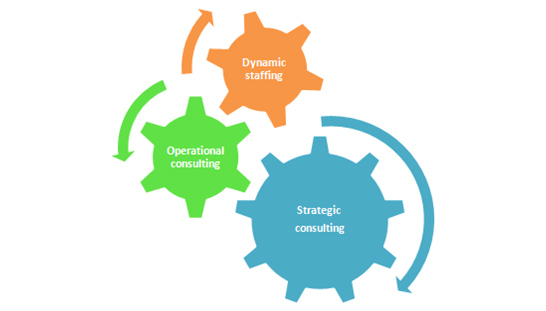 Strategic consulting
Led by senior consultants with experience at executive level in major multinational companies, our strategic consulting solution helps our customers to understand the current status of their supply chain Based on this diagnosis and understanding of our customer's specific target, they propose a broad range of improvement of the whole supply chain.
Case by case, it can include reorganization of the supply chain function, development of new purchasing strategy, development of process and best practices, coaching, change management, etc …
Operational consulting
Phinecon provides highly experienced consultants with management and buyer level, able to integrate themselve quickly into your organization to drive sustainable improvement and change.
Combined with our strategic consulting service to drive the changes or separately to improve a specific area/project of the supply chain, our consultants are result driven and focused on bringing tangible sustainable benefits to our client.
Managed locally by our clients, with the coordination of our project leaders, our consultants are expert on specific areas of the supply chain with deep knowledge of existing best practices.
Our usual mission includes the development and implementation of new commodity strategy, implementation of new purchasing strategy for whole division of our customer, transfer of spend from HCC to LCC/BCC with resourcing, improvement of financial performance of distressed project by taking lead on purchased part, improvement of supplier quality performance, management of distressed supplier, improvement of supply chain KPI through best practice implementation (inventory, fill rate, OTD, etc), reverse engineering on competitors product, development of new supplier base in BCC, etc…
Dynamic staffing
Supply chain is a key function where it is critical to develop, retain the best candidates to maintain a strong workforce.
Due to irregular workload, new priorities/projects or HR constraints, our clients might require temporarily reinforcement, quickly operational and able to make the job done.
Phinecon consulting proposes experienced consultants able to jump and fill the position during the time required by our client.
This solution gives to our customers a great flexibility in the management of the workforce supporting the supply chain function.
Our consultants intervene usually as project buyer, commodity buyer, supplier quality engineer, product designer, logistic engineer or manager.