Overhead & Indirect procurement Optimization
Procurement study found that although once overlooked, indirect procurement organizations have come a long way and are increasingly recognized as having significantly more value to contribute. Indirect spending accounts for 60 percent of third-party spend in non-manufacturing companies, more than 90 percent in the financial services industry, and sometimes 50 percent of spend in manufacturing organizations.
Higher Visibility, Greater Expectations
Today, far more people recognize the importance of indirect procurement as it now includes purchasing complex goods and services such as IT, logistic, marketing and advertising, facilities management, professional services, and maintenance, repair and operations (MRO), but few companies manage complex indirect spend categories with the level of attention necessary to reach the potential benefits.
Phinecon consulting proposes a complete or partial outsourcing solution for indirect procurement and all non strategic purchase for our client's operation in BCC regions.
All through a methodic process: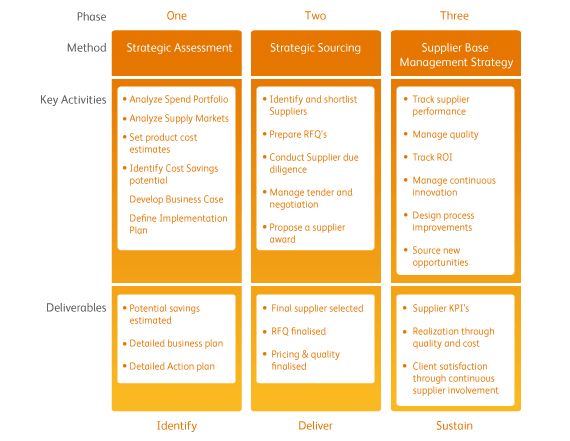 For our clients, the benefits are clear:
Lower spending on indirect goods and services and improved procurement effectiveness.
Offering prices to clients through aggregated spending, and through improved access to an assortment of suppliers.
Leverage economies of scale and improve their control over the execution of non-core processes and poorly managed spend categories.
Improved procurement effectiveness through access to best-in-class practices and technologies and to deep category expertise across the total spend.
We believe in helping our clients focus on their core competency and strategic management.
With a customized solution tailored specifically to your need and by leveraging our mature procurement capabilities, Phinecon consulting will reduce lost profits on indirect spend and improve the financial health of your company.
Our customers have enjoyed savings in excess of 30% on numerous categories.
Strong from our knowledge of local and global suppliers in the BCC region where your operations are located, and our capacity to combine the spend of our clients to negotiate with supplier to get the best cost, we can propose purchasing power, best practice and new supplier alternatives to your company.
Cost savings arise from compliance with contractually negotiated and agreed terms
Multi customers combined negotiation through Phinecon centralized indirect expertise for maximum benefit to our clients.
Consolidated purchases across multi-location business units leads to more effective volume discounts. Cost saving also arising from the obvious economies of actual centralization of the function.
Some of our areas of expertise:
IT (including SAP)
Travel
Energy
Event & Communication and merchandising
MRO
Facility management
Scrap sales
Freight and logistic
Warehousing
HR services
Office supply
Packaging
Building service
Long term leasing
Catering
Consulting
Fleet
HVAC
Hardware
Cleaning and security service
Office supply & equipment
Safety
From a full offshore solution of an indirect purchasing organization to a more simple consulting mission of cost reduction, Phinecon will deliver to clients the best customized solution to rationalize the indirect spend.
Fee models
We are so confident in maximizing your profits through the reduction of your indirect spend, that our fee model can be tailored to suit your individual needs.
For example:
Percentage of actual savings achieved – No savings, no fee
Day rate
Fixed project fee
Savings opportunity report